HI Guys you have asked for a room with two beds in to enjoy your time at One33 with your mate and a couple of our gorgeous ladies.  We  have listened to you and have taken note of your request and we have gone ahead to turn Rm 8 into your double playmate room.
We have stripped it and are in the process of installing a double walking shower (with two water controllers so you can have your water temperature the way you like it while your gorgeous playmate has hers.), Spa, two double beds,  mirrors to what each other having fun with your ladies.  All this and more not to mention getting a hot towel off the heated towel rail to start the sensual pampering  by your choice playmate.
We want to make our club the best and your only choice of club so if there is anything you guys would like to see here at One33 please drop us a line so we can make your fantasy or favourite drink we don't currently stock, to make every visit to One33 unforgettable .
How room 8 looked.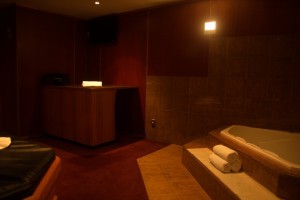 In progress.


The finished look.
This newly refurbished room is a room where you can do the ultimate male fantasy with a friend, 2 guys and as many ladies as you like with no need to move, room service is provided!
This room now has a huge shower built for 2 and 2 beds as well as a spa, music, big screen tv and a heated towel rail to keep you warm after that shower action.
Come to One33 and try it out for yourself!